Early Saturday morning, I'm off to UT campus to stand in a long line on the sidewalk outside Blanton Museum. Unusually chilly for an Austin April morning, some waiting in line were prepared for the cold. Others, shivering, had dressed solely to be seen. The line grew in increments every fifteen minutes, as if some bus somewhere let actors escape only every fifteen minutes. Actors were in from all over central Texas, Houston, Dallas, some as far away as Corpus Christi.
We'd all received the email. We knew, the first in line gets the choice seats closest to the stage, so there was sizing up and shifting as people arrived. After standing there for at least an hour, an official stepped outside, asked people to raise their hand if they needed to use the restroom. Hands went up and a herd rushed forward past the first person in line. As I went past her, I heard her, with an anxious look on her face, ask each person that went by, "Do you have to go to the bathroom? Do you really have to go?" She had fought for her preeminent spot and was determined not to give it up. Later we had to come back out and get back in our place in line which seemed to give her great peace of mind.
Breakdown Services out of LA was holding a day long Actors Access Actors Symposium here in Austin and we actors were there to network and learn what we could. And, from the several pushy actors, the preening young actors and, in particular, one a little too loud actor who came in just before the free general session, I think many could see this as their ticket to fame. Yeah, sit down fella, we all can see you and hear you. If you're charming and loud enough, I'm sure that's all it'll take for the casting directors waiting off stage. Once they lay eyes on you, your future is made. And, get your foot off the back of my seat.
I had half expected this symposium to be yet another meting out of the same old details from panels of smiling faces. But instead, it was a nice surprise. One, it was in a new auditorium with not too steeply raked seats, so, after all that jostling for position, though the place was packed, there wasn't a bad seat in the house. The seats were comfortable, the lighting great, everyone smiling. Some a bit quirky-actor-forced smiling, but still, it counts as smiling.
The selection and variety of Casting Directors on each panel throughout the day was top notch. The information was current and applicable to actors already out there actively pursuing on-camera acting careers. There were many other actors there who, like I, have been in this game for many years, yet still, I think we all found it helpful. Other than being given a million dollars and being discovered that very day, it was exactly what we needed. Though, not to say I'd turn down a million dollars.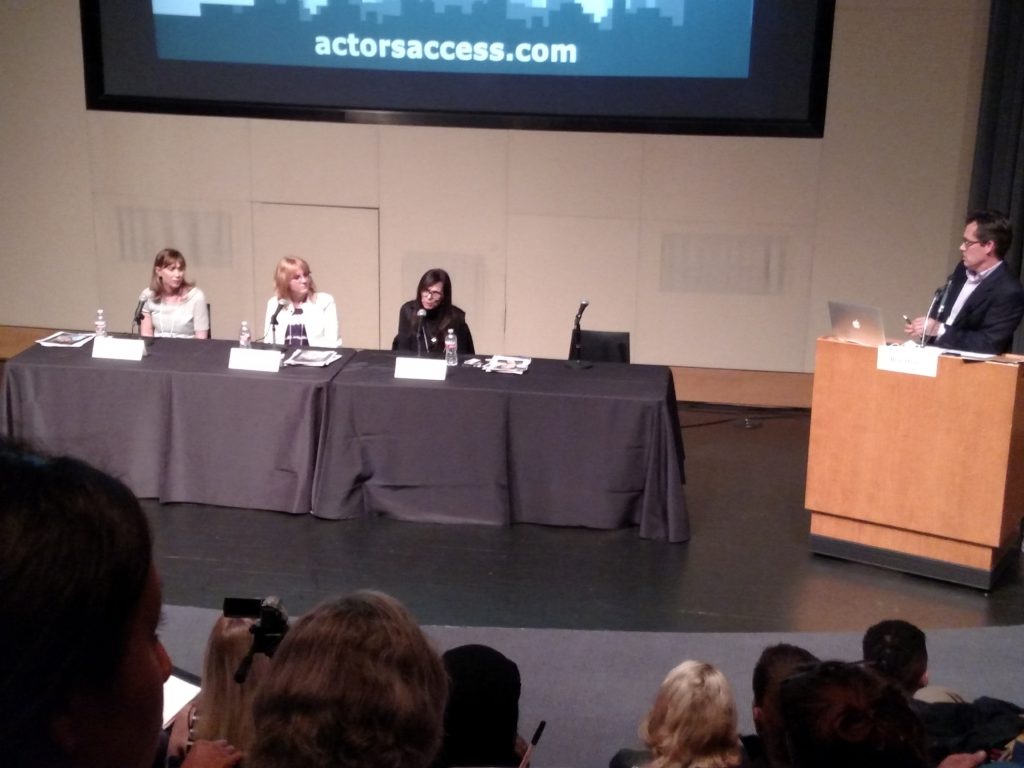 It was great to see Texas Casting Directors on the panels that I occasionally get to audition for; wonderful Beth Sepko-Lindsay, Brenda Ambrize and Donise Hardy. Also, there was the legendary Mark Fincannon out of NC and Atlanta and Sharon Bialy and Pam Dixon from LA, in addition to Tisha Blood from Dallas and Steve Maisel of Austin-LA. I must say, Donise Hardy gets the Entertainment Award for the day. She was on her game, quick-witted, hilarious and refreshing.
I liked best the tips and tech info they shared about listing on Actors Access in reference to what a Casting Director looks for and sees. The idea of doing a free slate shot and the use of video clips as opposed to posting a demo reel was great. As were the wonderful tips on the art of self-taping for virtual auditions.
Since a great deal of film and television production is leaving Texas due to tax incentives being politically blocked, it was good to hear that commercials drive Texas. Thank you, my agents Mike and Michael Pruet at Actors Clearinghouse for continuing to send me out on those commercial auditions!
All the Casting Directors said that Atlanta is now the hot market. Though I spent years driving from Nashville to Atlanta to audition, I'm not ready to move back. Having good quality of life is important to me which is one more reason I love living in Austin. And opportunities here, such as this Symposium, grow each day. But, understatement, you've got to be competitive to be a working actor and willing to travel, so I should never say never.  – by Martha Hannah