Happy Trails and Vineyards! Uh, Wineries. Celebrating our Anniversary this past week in Fredericksburg, Texas. A girl's gotta take a break. Searching for lyrics and fun!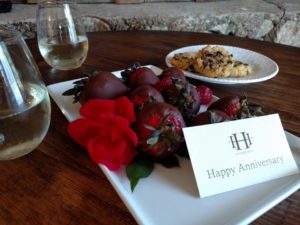 Out in the Hill Country, west of Austin, are countless vineyards and wineries. And wonderful bed and breakfasts like the Hoffman Haus where we stayed. The Hoffman Haus offers romantic cottage style rooms and delivers gourmet breakfasts with, thank God, gluten free and vegetarian options, in a picnic basket to your door every morning. All located within a short walk to downtown center. For an Anniversary surprise they greeted us with chocolate covered strawberries with raspberries and blueberries rolled in sugar, complete with a wild rose. And, yes, we brought the chilled champagne.
At this particular stop, in the video below, we are at the Perdernales Cellars outside Fredericksburg in Stonewall, Texas. Also Becker Vineyards for many years has been a fav of ours. Always a great place for winetasting. Not a place for glam or makeup, just a place to kick back and relax.
So, pour yourself a glass of wine. Breathe in the fresh air, think of Texas longhorns mooing and Hill Country vista in the distance, and enjoy this video! Happy Trails to you!   — by Martha Hannah