My first Willie Nelson 4th of July Picnic was a lifetime ago. The heat was sizzling and the crowd, a mere 60,000, thick and wild. Girlfriend road trip and all that, I'd come down from Nashville with a carload of besties to visit my old friend Lana Nelson. My mission was, not only to have as much fun as I possibly could, but to cover the Picnic with an article and photos for a small Nashville Music Row paper that, of course, folded by the time we got back home.
Outside Austin in Spicewood, the Pedernales Country Club, now Willie Nelson Cut & Putt, was the Picnic's site. Mr. Nelson opened the show with his trademark 'Whiskey River' and the most incredible music went on from there. All day, all evening, all night long. Legends included Merle Haggard, Ernest Tubb, Hank Cochran, Ray Price, Faron Young, Leon Russell, Asleep at the Wheel, Delbert McClinton, Charlie Daniels and on and on. They were all there. Rockin' 'n rollin', Country, Swing, Blues, the hottest sax and piano, guitar riffs and the most talented showmanship ever. Some arriving in limos, some by helicopter. Hell, even Warner Brothers dignitaries were there that year.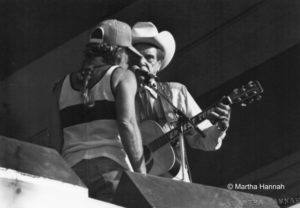 Thankfully, we got to stay backstage most of the time, but occasionally, went out into the crowd. Which was crazy. An endless sea of cowboy hats, brown bodies and coolers dotted with small tarp tents. Guys outnumbered women two to one. Cowboys and bikers, die-hard Willie fans from all over the U.S. partying hard. I heard, "Where ya'll from?" To my answer "Tennessee", a guy with beer bottle in hand and great Texas accent said "Well, Tennessee is just a little brother to Texas!" After all, we did help them out a little at The Alamo.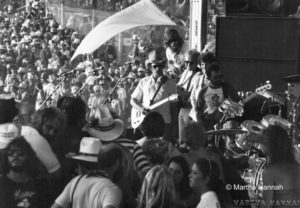 Temps in Austin hit 112 that summer. Every so often Mr. Nelson would step out on stage to say, "Take care of yourselves. Don't pass out or fall asleep in the sun. Don't forget to get up and walk around." Too late. I remember a mountain of crumpled Lone Star Beer cans in the heat with a guy passed out on it while the crowd and the music kept churning.
I can still see the moment when Asleep at the Wheel broke into a sassy Texas swing and the crowd went wild. A hand clappin', hootin' 'n hollerin', foot stompin' dust storm rose up as all the true Texans lined up to do the Cotton-Eyed Joe. Yep, that's when I decided Texas was for me.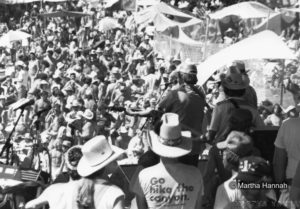 The evening ended with fireworks and Willie Nelson and Family closed out the show. 2 a.m., full moonlit night shining down on a long trail of people as they headed down the dusty country road, back to their cars. We drove past them on our way out and I looked over to see somebody pushing a guy in a shopping cart along the bumpy lane. It was the fellow from the mountain of beer cans, still passed out. What an image. Good thing to remember, never leave a good man behind. Especially one that can party so hard.  – By Martha Hannah